Twilight Wintershimmer is a tech fairy.
Appearance
Edit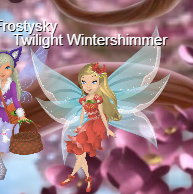 Twilight has pale skin, blue eyes, and long blonde wavy hair. She wears flower dresses.
Description
Edit
When Twilight Wintershimmer joined, she was constantly posting in the tutorials forum and responding to user questions. She was discovered by admins for being good at WebGL and completing browser issues. Although Twilight can be quiet, she is extremely kind to fairies. She became a global moderator for thirty days and it became permanent after expired. Twilight's friends love having her around because of her energy.
Twilight's personality is smart and helpful.