Faye is a frost talent fairy.
Appearance
Edit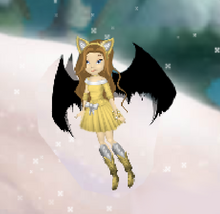 Faye has big blue eyes, pale skin, and blonde hair. She wears light colored winter clothing often fluffy with pointy ears.
Description
Edit
Faye joined Fairyabc in the time when forums were first being made and had a cheery vibe. She liked when others made her happy and did the same to them. Faye is a good friend and is never afraid to stick up for herself and others. Faye's unique ability is speaking Spanish. Her hobbies include playing Wizard101, fashion, and jokes.
Faye's personality is transparent, approachable, and strong mentally.