Donner Parsleyhill is a famous sparrowman, as he is known for using Speedchat.
Appearance
Edit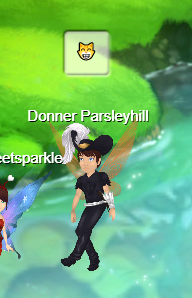 Donner is light skinned with blue eyes and brown hair. He sometimes wears a pirate costume with an arm accessory.
Description
Edit
Ever since the original Pixie Hollow, Donner only talked in Speedchat. When he came to Fairyabc, he continued to do so. Everyone began thinking he was muted. His profile consists of fans commenting on his wall, music, and a profile picture of him in a captain uniform. When anyone asks him why he uses Speedchat, he says "mysteries are mysterious!" Additionally, Donner is a baking talent sparrowman.
His personality is mysterious.