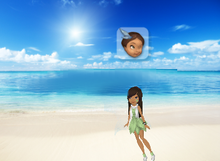 Bim is a social and popular Native American fairy who likes Sunflower Gully. She's assertive, has a magnetic personality, and is the main protagonist in The Forgotten. Her uid is 6686.
Appearance
Edit
Bim has thick long brown wavy hair, big brown eyes, and light brown skin. She's a kitchen and sun witch, and an Egpytian Amber merfairy. Bim normally wears light colors and puffy skirts.
Description
Edit
Bim, formerly known as June Seaflower, is a popular, social, and well-liked fairy. She doesn't dislike anyone besides one fairy, Chickadee, who came onto FairyABC and was harassing many fairies. She likes writing stories, listening to indie music, and fashion. Bim used to be picked on by a bully at her school. She then turned everyone's heads when she stood up to him. People were then afraid of picking on her, but she was still well-liked.
Her personality is sweet, adorable, and sympathetic. People usually go to her for help.