Anyone who visits FairyABC will know this guy. Jasper (known in-game as Jas: UID 5212) is a sparrowman and moderator who is known for his iconic purple and black outfits. He is one of the famous fairies around the hollow and is actually friends with most of them. He is currently a global moderator and a former moderator for the My Arts forum (which is fitting since he is also a talented artist).
Jasper is also a writer, and he's recently the first winner of FABC's writing contest and a contributor to the game's Ver. 2.0 where he designed some outfits meant for sparrowmen. He is one of the most approachable and a social butterfly so it is not very hard to talk to him. Jasper can most often be caught saying "I'm crying" or making the ":)" sparrowman emote.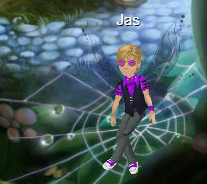 (Pictured) Here he can be seen sitting in Neverberry Thicket.